An affordable construction system that teaches the fundamentals of STEM through hands-on activities. This system helps young students perceive coding and engineering in a fun and positive way!
Ages  8-11
FREE TRIALS FOR EDUCATORS
Experiment with VEX GO during 15 days FREE trial!
VEX GO includes fun, collaborative, hands-on, minds-on activities that encourage all students to participate
VEX GO encourages students' natural curiosity and supports students to develop and share new insights as they work collaboratively
Using VEXcode GO, a Scratch Blocks-based programming environment available for iOS, Android and Amazon Fire tablets, Windows and Mac
Color-coded VEX GO containers help teachers stay organized while their students are learning on-the-go.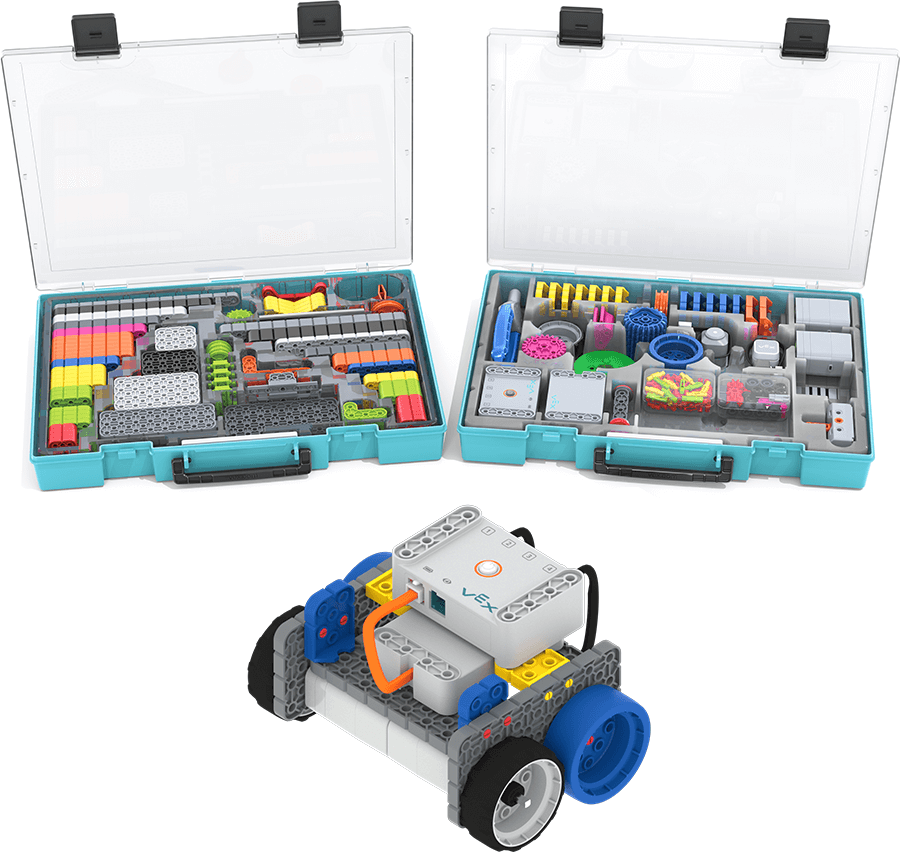 One kit for 2+ Students
Organised storage bins
Electronics, motors and sensors
Unlimited possibilities...
280+ Plastic Pieces
Astronaut Minifigure
VEX Hand Tool
3x Smart Motors
1x Lithium-Iron (LiFeO4) Battery
1x Optical Sensor
1x Electromagnet
1x LED Bumper Sensor
1x Power Switch
1x Smart Brain
VEXcode is a coding environment for students of all ages and levels.
VEXcode is consistent across Blocks and Text, across VEX 123, GO, IQ and V5.
VEXcode's Block-based interface is the perfect platform for those new to coding. Students use a simple drag and drop interface to create functioning projects.
VEXcode Blocks are availalbe in English, French, German and Dutch
VEXcode is supported on Chromebook, Windows, Mac, iPadOS and Android Tablets
5, 10 or 15 GO Education Kits
Organised storage and carrying cases
Robot field and walls
Spare parts and more...
Four competitions in one kit
Ocean Science Exploration
City Technology Rebuild
Village Engineering Construction
Mars Maths Expedition
Field size is 91cm x 182 cm
Great for classrooms and schools
VEX Has the STEM Solution for All Ages