VEX IQ Education Kit (2nd generation)
VEX IQ is a snap-together robotics system, making it fast and easy to build an endless variety of robots. Watch code come alive on a physical robot and apply key STEM skills.  
The VEX IQ kit comes with everything you need to successfully implement educational robotics. One kit supports 2-4 classroom students, and classroom bundles are available.
Organized parts storage reduces classroom clutter
IQ Electronics are Simple, Flexible and Powerful
Students can build and change their robots fast
Parts, Electronics and Curriculum are integrated together
VEXcode software supports Block, Python and C++ (no installation required)

Ages 10-14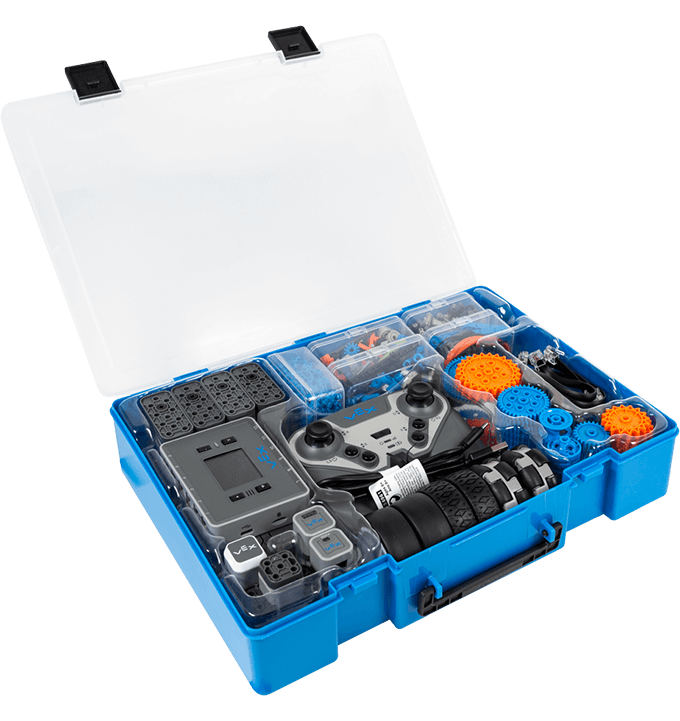 VEX IQ Education Kit contains: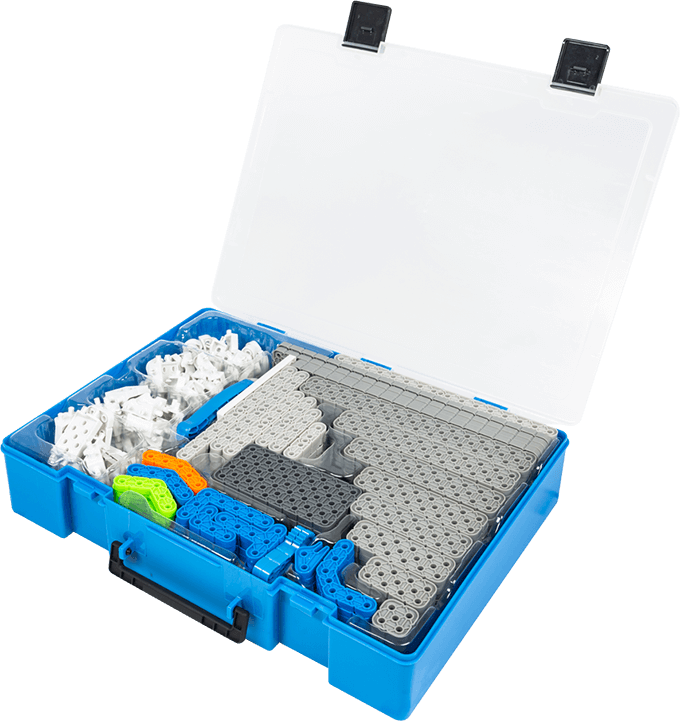 VEX IQ Education Kit contains:
Meet four of the VEX IQ robots you can build with the VEX IQ Super Kit!
Armbot IQ
Clawbot IQ
Ike and
V-Rex!
Armbot IQ, Clawbot IQ, Ike and V-Rex!
Simple. Flexible. Powerful.
VEX IQ comes with all the electronics needed to power, remotely operate, and code your robot.
The Robot Brain connects your entire robot together, and includes a color screen for quick and easy control. Multiple international languages will be available.
The Robot Battery uses Lithium-ion technology to provide all-day classroom usage in most situations, and includes a button for quick battery charge indication.
The Controller enables wireless robot driving and wireless code download.
The Optical Sensor lets the robot see light, color and gestures, even in darker rooms.
The Distance Sensor (2nd generation) uses a safe laser to accurately detect distances without interference.
The Touch LED provides human touch input to the robot and color output to human eyes.
The Bumper allows the robot to feel when it hits a wall or another robot.
And the most important part of all, the Smart Motors make it all come to life with power and precision.
VEXcode is a coding environment for students of all ages and levels.
VEXcode is consistent across Blocks and Text, across VEX 123, GO, IQ and V5.
VEXcode's Block-based interface is the perfect platform for those new to coding. Students use a simple drag and drop interface to create functioning projects.
VEXcode is supported on Chromebook, Windows, Mac, iPadOS and Android Tablets
VEXcode Blocks are availalbe in English, French, German and Dutch
C++ Text-Based Programming
For more advanced users, VEXcode IQ Text is a free C++ text-based programming environment which allows you to create more complex VEX IQ robot programs.
Advanced text editor features such as autocomplete, auto indent, syntax colouring, bracket matching, code-collapsing and more
Supported on Windows, Mac and Chromebook
Coloured structural parts
Personalise your robot designs with coloured plastic parts. Most VEX IQ structural and mechanical parts are available in red, green, blue, orange, pink, purple and yellow 
In the VEX IQ Challenge teams of students are tasked with designing and building a robot to play with other teams in a game-based engineering challenge. Classroom STEM concepts are put to the test as students learn lifelong skills in teamwork, leadership, communications, and more.