Our robotics club is open !
Since Saturday 25 September, our robotics club has opened its doors in Uccle and welcomes children for weekly classes on Wednesdays, Saturdays and Sundays. We wanted to give you a little insight into what we are learning at the nooby.tech robotics club.
Who are we?
nooby.tech's mission is to introduce educational robotics and STEM (Science, Technology, Engineering, Mathematics) solutions to all students in Belgium, the Netherlands and Luxembourg. We offer educational robots and robotics kits, robotics courses, workshops and trainings. These innovative STEM solutions allow children to develop their collaboration, problem-solving, creativity and leadership skills; skills that are fundamental for our future professionals of the 21st century.
We are partners with VEX Robotics, the world leader in educational robotics. VEX Robotics organises annual competitions with REC Foundation (Robotics Education and Competition Foundation). These are the largest and fastest growing academic robotics competitions in the world with over 24,000 teams assembled in the 2019-2020 season! This year, we are organising a VEX robotics competition in the Benelux for the first time. The winners of the competition will have the chance to participate in the VEX Worlds finals in the USA in May 2022.
What are robotics courses?
We offer several types of courses:
       1) Coaching for those who would like to participate in the VEX IQ Challenge:
Coaching is for children from 8 to 13 years old and is given weekly for two hours until the VEX Worlds final at the end of April in the USA. The classes take place on Saturdays or Sundays from 12.30 to 14.30.
The children are part of a team with 3 to 4 other teammates. They'll have to design, build and program a robot that can participate in the game of the season. 
       2) Weekly classes for beginners: 
We offer 1.5 hour classes each week for children aged 7-9 years or for children who have little or no experience in robotics. The children work in pairs or groups of 3 and have the opportunity to test their robot in small playful competitions. You can choose between Wednesdays from 1.30 to 3pm and Saturdays from 2.45 to 4.15pm.
       3) Weekly robotics classes for children aged 9 to 14 or with previous experience.
In these classes we work mainly with the VEX IQ kit. The children work in teams of 2 or 3. They learn the Scratch coding language and will then progress to learning C++ and Python. You can choose between Wednesdays from 3.15pm to 5.15pm, Saturdays from 10am to 12pm or Sundays from 10am to 12pm.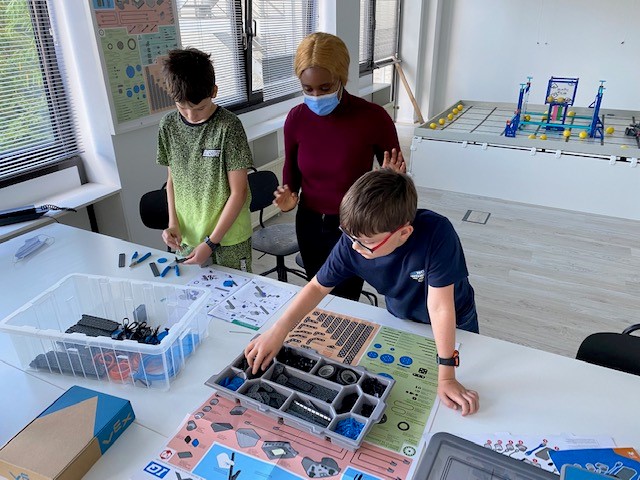 What do we learn in these classes?
During our robotics classes, children discover and learn many things, such as:
Engineering process 
How to design and build a robot that can perform various tasks   
Simple machines and movements (e.g. gears, levers)  
Mechanisms (e.g. motors)
Sensors and their functionalities
Coding a robot in Scratch, Python or C++
Handling a robot
CAD (computer aided design) 
And many other things
Why robotics? 
Robotics is a great way to introduce children to STEM. Through robotics they develop fundamental skills like teamwork and communication. We also focus a lot on learning through failure, it pushes children to find a solution when they encounter a problem and not to get frustrated when something doesn't work the first time. 
Robotics makes learning more fun, more interesting and more engaging!
Want to enrol your child?
We regularly organise doors open days to introduce children to robotics. You can register your child on our website or by sending us an email via hello@nooby.tech. We also offer courses during the school holidays. 
We hope to see many of you at the nooby.tech robotics club!